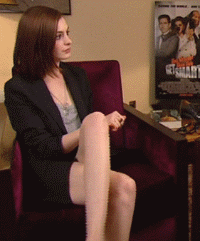 ---
Above is behind the scenes footage of Anne Hathaway auditioning for the "Basic Instinct" remake.
It is very apparent from the video above what role Anne is auditioning for in the remake… Michael Douglas' character Detective Nick Curran. How else would you explain a woman wearing a jacket like that?
Anne Hathaway will make a fine detective in the "Basic Instinct" remake, and will certainly bring some much needed masculinity to the character after the effeminate Michael Douglas nearly ruined the original.