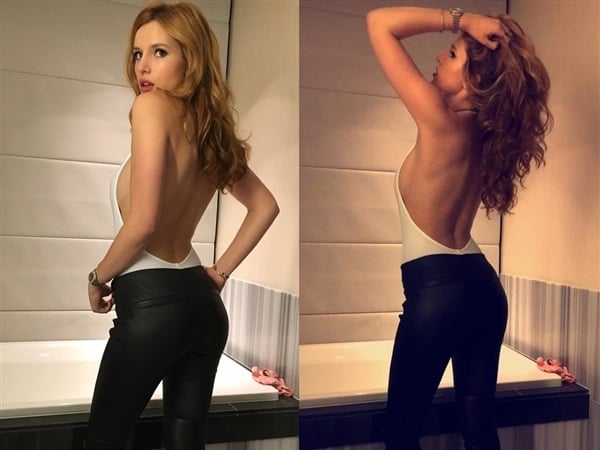 ---
18-year-old former Disney star Bella Thorne shows off her side boob and ass in the new photos below from her Snapchat account.
As you can see, not only does Bella display her taut teen ass in a pair of skin tight leather pants, but she also flashes the side off her perky nubile tit in a tiny top. Of course the most brazen aspect of these Bella pics is her flaunting her luscious plump dick sucking lips by pouting them in the first photo and then using them to fellate the top of a water bottle in the last.
If Bella thinks that by practicing wrapping her lips around a water bottle she will be prepared to orally pleasure a Muslim's enormous meat scud she is sorely mistaken. For only if Bella could deepthroat a whole six pack of water bottles would she even be close to ready to even attempt tackling a Muslim's mighty tunic snake, as it is a well known fact that our gigantic manhoods asphyxiate eager young whores like Bella Thorne all the time.